Event
Schedule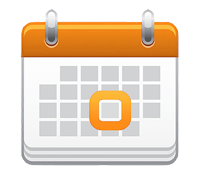 Program Title:
Thru-Hiking the Buckeye Trail: Things That Will Change the Way You See Ohio
Program Description:
In 2011, on an 88-day thru-hike of Ohio's Buckeye Trail, Andy "Captain Blue" Niekamp made the most amazing long-distance journey of his life. As he walked his home state through wilderness, farmland, small towns, big cities, rural and urban areas, he discovered Ohio in a way that can be only experienced on foot. Captain Blue's stories about the people and places, past and present will change the way you see Ohio. His beautiful photos and experiences will surely inspire you to hike the Buckeye Trail.
Meet Andy at These Events:
October 7, 2021
Brown Memorial Library
Lewisburg, Ohio
Program & Book Signing
6:30 pm
For a full list of Andy's programs visit: www.outdooradventureconnection.com
Past Events:
March 12, 2020
Beavercreek Public Library
Beavercreek, Ohio
Program & Book Signing
6:30 pm
September 18, 2019
John McIntire Library
Zanesville, Ohio
Program & Book Signing
11:30 am
January 6, 2018
Buckeye Trail Winter Hike
Caesar Creek Visitor Center
Waynesville, Ohio
Book Signing
10:00 am – 4:00 pm
January 16, 2018
Friends of Crowell Hilaka
Richfield, Ohio
Program & Book Signing
7:00 pm
January 20, 2018
Franklin Public Library
Franklin, Ohio
Program & Book Signing
2:00 pm
January 24, 2018
Great Miami Outfitters
Centerville, Ohio
Program & Book Signing
6:30 pm
January 26-27, 2018
Winter Adventure Weekend
Carter Caves State Resort Park, Kentucky
Program & Book Signing
7:30 pm Thursday
Book Signing
1:00 pm – 4:00 pm Thursday
Book Signing
12:00 pm – 2:30 pm Friday
Book Signing
10:00 am – 2:00 pm & Saturday
February 9-10, 2018
The Adventure Summit
Wright State University
Fairborn, Ohio
Book Signing
5:00 pm – 9:00 pm Friday
Book Signing
9:00 am – 5:00 pm Saturday
Program
10:45 am Saturday
February 15, 2018
Florida Trail Association
Western Gate Chapter
Pensacola, Florida
Program & Book Signing
7:00 pm
March 8, 2018
Roads Rivers & Trails
Milford, Ohio
Program & Book Signing
7:00 pm
March 9, 2018
Dayton Backpacker Campfire Program
Beavercreek, Ohio
Program & Book Signing
7:00 pm
March 27, 2018
Salem Township Public Library
Morrow, Ohio
Program & Book Signing
6:30 pm
April 4, 2018
Program and Book Signing
Mary L Cook Public Library
Waynesville, Ohio
Program & Book Signing
6:30 pm
April 9, 2018
2nd Monday Local Authors Event
Centerville Public Library
Centerville, Ohio
Book Signing
1:00 pm – 3:00 pm
April 10, 2018
Program and Book Signing
Delphos Public Library
Delphos, Ohio
Program & Book Signing
6:30 pm
April 15, 2018
Program and Book Signing
Trinity Church Of Miamisburg
Miamisburg, Ohio
Program & Book Signing
6:30 pm
April 17, 2018
Program and Book Signing
Dayton Metro Library Main Branch
Dayton, Ohio
Program & Book Signing
6:30 pm
April 26-29, 2018
Buckeye TrailFest Celebration
Hocking Hills, Ohio
Book Signing
Thursday, Friday & Saturday
Program & Book Signing
11:00 am Saturday
May 4, 2018
Greater Cincinnati Grotto Meeting
University of Cincinnati
Cincinnati, Ohio
Program & Book Signing
7:30 pm – program beings after a short business meeting
May 10, 2018
General Butler State Resort Park
Carrollton, Kentucky
Program & Book Signing
7:00 pm
June 14, 2018
REI Cleveland
Beechwood, Ohio
Program & Book Signing
6:30 pm
June 20, 2018
Dover Public Library
Dover, Ohio
Program & Book Signing
6:30 pm
June 21, 2018
Huron County Community Library
Willard Memorial Library
Willard, Ohio
Program & Book Signing
6:00 pm
---
October 16, 2018
Yellow Springs Community Library
Yellow Springs, Ohio
Program & Book Signing
6:30 pm
October 24, 2018
St. Marys Community Public Library
St. Marys, Ohio
Program & Book Signing
6:00 pm
November 8, 2018
Lakewood Public Library
Lakewood, Ohio
Program & Book Signing
7:00 pm
December 6, 2018
Shawnee Prairie Preserve Nature Center
Greenville, Ohio
Program & Book Signing
6:30 pm