Reviews
Amazon Reviews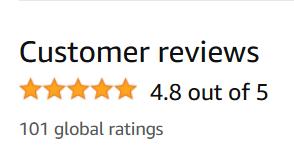 Jim Zehringer, Director of Ohio Department of Natural Resources
Let me start out by saying that I thoroughly enjoyed the book and would recommend that it be available at all of our state park gift shops. I really enjoyed the history lessons that you conveyed about each area. For example, I never knew about the distance fact on water flow about New Bremen or the counterfeit house on the Ohio River. I could go on and on. I was also very interested in the condition of the trail at various sections and in seeing how we can improve areas of our state parks that involves the BT. Since coming to DNR in 2011, we have made trail head signage, safety, confidence markers, and restrooms, a top priority. I would be curious about getting your feedback on how we're doing. I appreciate your passion for the outdoors and you would have made a fine Naturalist or Park Ranger.
Book Review – Patty Carro, Freelance Writer, Novelist
Trailblazer Magazine – Buckeye Trail Asociation
Ohio's Buckeye Trail winds across 1,444 miles of dirt and bike paths, city streets, rural roads, forests and pastures – all ostensibly marked by painted "blue blazes" to guide the way. Unlike the Appalachian and Pacific Crest Trails on the east and west coasts, respectively, which meander vertically from end to end, the Buckeye Trail is a loop approximating the perimeter of Ohio. If you start in Dayton, for instance, you can plan a hike that finishes in Dayton. That is exactly what wilderness adventurer Andy Niekamp did over 88 challenging days in the spring of 2011. In so doing, he became the first to complete a solo thru-hike of the Buckeye Trail at its current length of 1,444 miles. What's more, "Captain Blue," as he is known on the trail, chronicled his daily progress via a blog that eventually became a 196-page book: Captain Blue on the Blue Blazes. It is a marvelous account of one man's journey.
Book Review – Dr D. on the AT. Hike It Forward
The Buckeye Trail is one very long loop trail…. 1,444 miles around the entire state of Ohio. I have hiked on several sections of it because the trail travels right through the city of Dayton. One of my favorite trail in the area is located at Caesar Creek State Park near Waynesville, Ohio – it is part of the Buckeye Trail. Much of the Little Miami Scenic Bike Trail bike trail between Cincinnati and Springfield is part of the trail. Deed's Point in downtown Dayton is on the trail as well.
Wild Cincy: Andy Niekamp, first to solo through-hike Buckeye Trail, hiked all four corners of Ohio
WCPO Cincinnati
Dayton native Andy Niekamp set out for a new life during the Great Recession after Hewlett Packard laid him off from the systems analyst information specialist job he'd had for 27 years. He decided to turn his passion for the outdoors into a full-time job, starting a small business called the Outdoor Adventure Connection that leads backpacking and hiking workshops all over the region. After completing several long distance hiking trips, including backpacking the Appalachian Trail three times, Niekamp was craving a different sort of adventure.
Book Review – Irene Szabo, Editor of North Star Magazine
North Star Magazine – North Country Trail Asociation
Dayton's Andy Niekamp launched his 2011 hike, as most of our readers know, a trail that forms a complete circle of Ohio must necessarily include a lot of flat land in the north and a lot of civilization, too. But don't we also know that it utilizes numerous state parks and segments of the hilly Wayne National Forest? And readers of these pages have seen that long historic canal routes up and down each side of the state offer many miles of trail, too. I myself am a bit of a canal geek, so have enjoyed reconstructed canal locks near Napoleon on the west side of the state, and at the north end of the Cuyahoga Valley National Park on the east side and more canalside trail in the Zoar area. And anything historic pleases me; after all, it was near the Miami and Erie Canal in Defiance that Joan Young and I sampled a pork brains sandwich in an old Prohibition-era speakeasy. As Andy himself says, "The Buckeye Trail…is about discovering Ohio."
Long-distant hiker to share highs, lows of adventure on Buckeye Trail
Pensacola News Journal
The Western Gate Chapter of the Florida Trail Association is sponsoring a program and book signing by Andy "Captain Blue" Niekamp from Dayton, Ohio.
Ohio hiker chronicles first solo thru-hike of Buckeye Trail in new book
Huntington Herald-Dispatch
What state has the longest loop trail in America? If you guessed any state but our good neighbor to the north – Ohio – you would be wrong. The fact that Ohio's 1,444-mile-long Buckeye Trail is America's longest circular trail – and that most folks don't know about it – is exactly why veteran Dayton-area long-distance hiker Andy Niekamp decided to take three months off in 2011 to complete the first solo thru-hike of the trail at its current length.
From hiker to author: Captain Blue on the Blue Blazes
Dayton Daily News
From small towns to big cities, farmland to coastline, Captain Blue spent 88 incredible days on his Buckeye Trail thru-hike. Andy Niekamp – aka Captain Blue – is sharing his experiences from the 1,444-mile trek in a book entitled "Captain Blue on the Blue Blazes – The First Solo Thru-Hike of Ohio's 1,444 Mile Buckeye Trail." The impact of the hike–specifically, the people he encountered along the way–has been a lasting one for the Dayton Hikers founder. "The people are amazing," Niekamp said. "I was surprised by the amount of 'Northern Hospitality' that locals showed me. Ohioans are real trail angels and my book has many instances of people performing random acts of kindness for me."